Driving Instructor Training.



***Mo aged 23 passed his adi part 3 FIRST TIME with a 5-4***

Instructor Training Pass Rates
The current pass rate for people who are doing Driving instructor training is 28%.
So let me help you do some simple maths.
According to DSA figures Out of 100 people who want to become a driving instructor

49% passed their Adi part one (Theory Test) So out of 100 people only 49 get past the Adi part one

45% passed their Adi part two (driving test) So out of 49 people only 27 got through to adi part three.

28% then qualified to become a driving instructor. So out of 27 people only 19 people actually became an ADI!!

Seen any of the big teaching colleges or schools tell you that??

Make sure you choose the best possible training course, with the best possible chance of passing!!!
LATEST ADI PART 3 PASS
WELL DONE GURI! Passed his adi part 3 test FIRST TIME!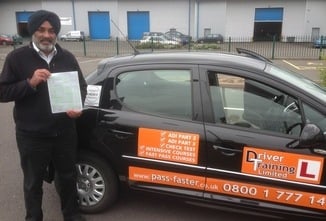 ADI PART 2 & 3 TRAINING.
Only £30 a hour, minimum of 2 hours.
Half Day (4 hours) £110.
Full Day (8 hours) £230.
2 Days (16 hours) £465.
Adi Check Test
If you have recently had a letter asking for you to take an

adi check test

, but are not sure of what is required or what the examiner will look for, don't worry we can help. We have helped many instructor to understand and easily complete the

adi check test

. Why not let us help you to be next?
Check Test £30 a hour, minimum of 2 hours.